Our team's top picks: Invicta Snow Plough
Welcome back to our 'team top picks' blog series, where we feature individual Invicta team members and their top product picks. In this edition, we're chatting with Vikash Singh, our Accounts Development Manager. Vikash's pick, the ISP (Invicta Snow Plough), is ideal for ensuring your business is winter-ready this year.
As winter descends, it's crucial for businesses to have effective snow management. Snow and freezing temperatures can create obstacles, so having strategic solutions ready and in place mean businesses can remain resilient in the face of the challenges of winter.
Keep reading to learn more from Vikash about why this forklift attachment is a must-have for battling snow and ensuring efficient operations during the colder months.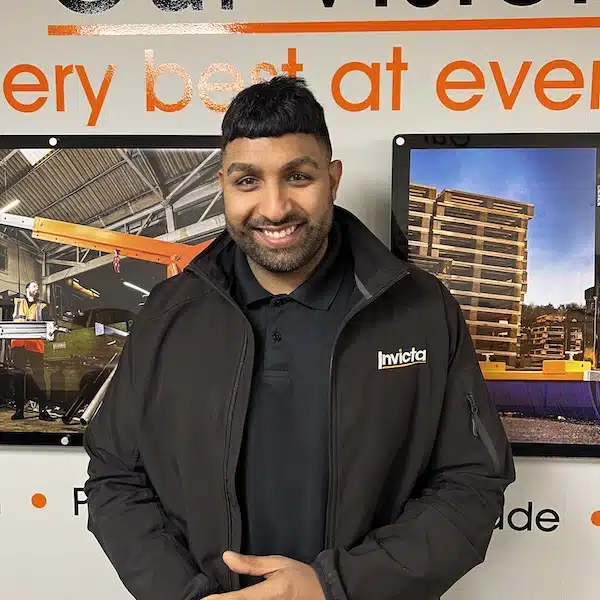 Hi Vikash, can you let us know your top pick?
My top product pick is the ISP, also known as the Invicta Snow Plough.
See the ISP product page for full specs
Can you tell us a bit about its function and the problem it is designed to solve?
It's designed to tackle the challenges of clearing both fresh and compacted snow. In addition, it also serves as a yard scraper, making it useful even outside of the winter months.
What are the standout features of the product that differentiate it from competitors?
I think what sets the ISP apart is its construction – it's made from galvanised steel. This not only prevents corrosion but also ensures durability, meaning it doesn't require as frequent maintenance. It's a long-lasting and cost-effective solution with a great life expectancy compared to other forms of steel.
How does the product improve efficiency and/or safety?
The ISP contributes to efficiency by helping users quickly and easily clear roads, car parks, and outdoor areas, to ease access for both vehicles and pedestrians. Its galvanised steel construction enhances safety too, by providing resilience against harsh winter elements and enhancing stability in icy conditions.
What are the main applications or industries where the product is used?
The ISP can be used in a variety of industries, from car parks and warehousing to public roads and building sites or yards. It's a go-to solution for any business that faces challenges with clearing snow in winter.
Are there any optional extras or add-ons available that can enhance the functionality of this product?
Yes, to enhance the functionality you can add optional extras like an additional rubber strip to help protect the surface, as well as the steel blade. There's also the Adjustable Blade Snow Plough, an adjustable version of the ISP. Instead of having a fixed angle, this version means users can modify the angle as needed – perfect for adapting to different terrains or uneven surfaces.
Thanks, Vikash!

As winter approaches, the ISP offers a high-quality, efficient and durable solution to your snow-clearing problems. Whether facing unexpected snowfall or maintaining operations in cold weather, our winter attachments, like the ISP, mean your operations can stay one step ahead of the challenges presented by winter. Prepare, invest in quality, prioritise safety and keep your operations moving smoothly throughout the colder months.
More resources for getting winter-ready
Winter-proof your business with forklift ice and snow attachments
The Invicta way of clearing ice with a forklift gritter attachment
Forklift snow plough and gritter attachments – the options
We offer a wide range of forks and attachments designed to help our customers overcome their material handling challenges, improve efficiency and prioritise safety. If you're curious about how the ISP Invicta Snow Plough can benefit your operations, please reach out to the team to find out more.
Back to all blog posts