Winter-proof your business with forklift ice and snow attachments

Forklift ice and snow attachments
From battling blizzards on the daily commute to hours missed due to snow-clogged roads and work sites, winter can be a frustrating (and costly) time for many.
But don't worry, you can plan to stay one step ahead this year. Our forklift ice and snow attachments are designed to help winter-proof your operations, no matter how harsh the weather gets this winter.
From seeing off unexpected snowfall to keeping your working environments regularly gritted and ice-free, we have the equipment you need to keep delays and disruption to a minimum and stay one step ahead of the ice and snow.
And, unlike other forklift ice and snow attachments, ours have been galvanised, not painted, providing long-lasting protection against snow and sand grit corrosion.
Here are our top tips for winter-proofing your operations:
• Be prepared.
Many businesses waste valuable time by being unprepared for snow and ice. Manually clearing snow takes a lot of time and effort which can be saved by having the correct gritting and ploughing forklift attachments ready to go.
• Invest in quality
You want your attachments to last you for years to come, so make sure you're investing in your future by purchasing quality products. Winter attachments that are made from stainless steel or have been galvanised are built to withstand exposure to poor weather conditions like ice and snow, as well as salty grit, and will stand up to potential corrosion.
• Keep health and safety in mind
Your operations can't pause in winter, so make sure your workers have health and safety at the forefront of their minds. Remember that slips and falls are more common when the weather is poorer, especially if conditions are slippery due to ice or rain. In addition, forklift stopping times may be increased due to bad weather.
• Keep on top of forklift maintenance

You should make sure your forklifts are safe and properly maintained during the colder months, when they may be more prone to faults or damage. A thorough examination inspection service is a great place to start.
Let's take a closer look at the forklift attachments that will help during winter:
Winter attachment 1: Snow plough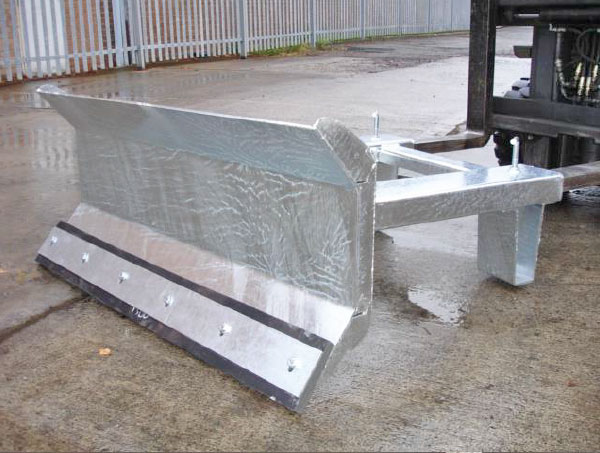 Our fork-mounted snow plough is often used by many of our customers as a yard scraper during the winter. Available in three different blade widths and models (ISP-1, ISP-2 and ISP-3), the attachment is highly effective at clearing freshly-fallen or compacted snow on car parks, access roads and service yards.
Standard features:
Fixed left hand sweep angle – 15 degrees
Detachable bolted steel wear strip
Stand skids to ensure level scraping
Zinc-plated twist screws for safe attachment to truck
Maximum fork section 150 x 50mm at 683mm centres
Fully galvanised finish
Optional features:
Blade width options:
ISP-1 – 1,250mm
ISP-2 – 1,500mm
ISP-3 – 1,800mm
Winter attachment 2: Adjustable blade snow plough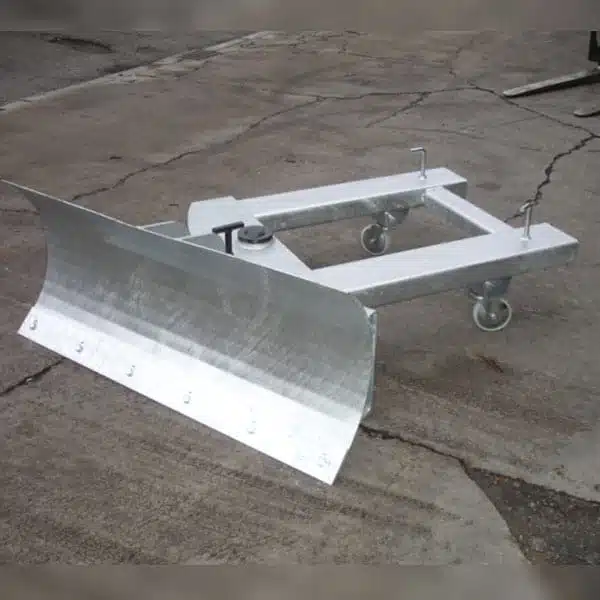 Created to complement the traditional fixed-blade snow plough, our adjustable blade snow plough facilitates environments where the direction of the plough varies. Like the fixed blade alternative, it also offers an ideal solution for clearing freshly fallen or compacted snow where it's necessary to ease vehicle or pedestrian access.
Standard features:
5 adjustable ploughing angles – 15 and 30 degrees to the left and the right, and straight on
Detachable bolted steel wear strip
Rear mounted castors to ensure level scraping
Zinc-plated twist screws for safe attachment to truck
Maximum fork section 160 x 60mm at 623 mm centres
Finished fully galvanized
Optional features:
Winter attachment 3: Hydraulic gritter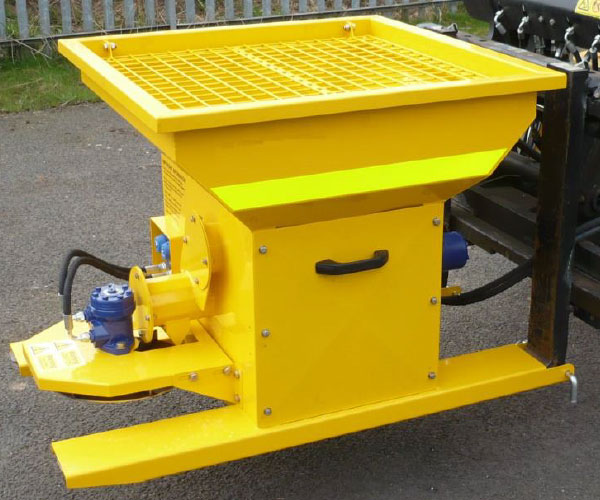 Are deliveries an essential part of your business? Do delays cost you dearly? If you're part of an industry that relies on vehicle access, like the warehouse and logistics industry, for instance, it's worth investing in heavy-duty equipment that ensures you can still operate.
This front-mounted salt spreader/gritter operates by being hydraulically driven from a forklift's third service valve or side shift valve. Fitted with a stainless-steel double auger system, which can spread all types of salt (wet or dry, brown or white), the system features a 0.20m3 hopper capacity for up to 250kg of salt.
Standard features:
Hydraulically driven stainless steel disc
Manually adjustable spread width valve from 1.3m to 9m (dependent on material)
Flat mesh top with access hatch
Fork pockets with heel pins for safe mounting
Hydraulically-powered from the forklift truck's hydraulic
Painted bright yellow
See our hydraulic gritter in action
Winter attachment 4: Mini towable spreader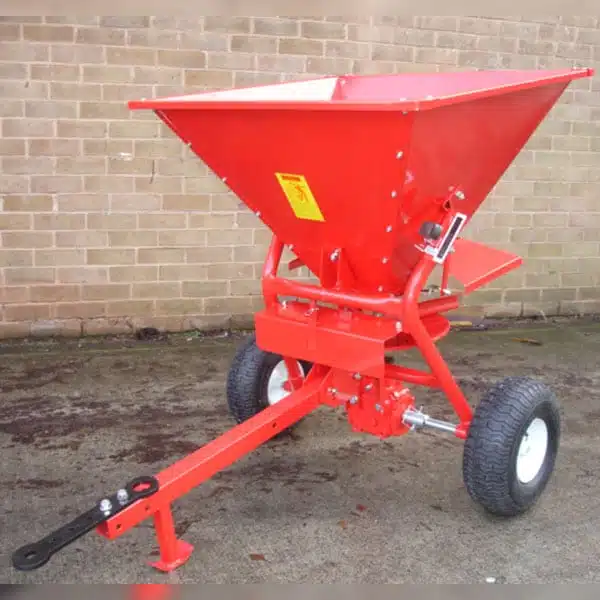 Ideal for using your existing forklift and tug machine to salt private access roads and goods yards, the mini towable spreader is towed behind your vehicle using either a standard towing eye or ball hitch. It salts the required area via the contact axle wheels and gearbox without any electrical or hydraulic connections.
Standard features:
Flow of salt regulated to ensure economical usage and spread width
Agitator mounted in the base of hopper to minimise blockages
Supplied with both towing eye and ball hitch
Painted red
Large pneumatic types
Optional features:
Winter product 5: Boot wash station
Offering an inexpensive and easy way to clean footwear, the boot wash station is ideal for use during the winter months. The boot wash station effectively cleans boots and footwear of snow, salt, debris and mud, ensuring site buildings are kept clean and safe in poor weather.
Inline (IL) version: covers usage of up to 3 workers at a time
Back to back (BTB) version: covers 2 workers at a time
Standard features:
Plumbing waste system to sump to remove internal wastewater
Lightweight robust plastic sub-frame
Water flow through each brush with individual isolator
Heavy duty galvanized foot grid
Finished in bright orange and silver
Optional features:
Conjoining piece to extend to multiple boot washes
Want to find out more?
For more details about the forklift ice and snow attachments featured in this post or for something more bespoke, contact us on 0113 277 1222 or sales@invicta-attachments.co.uk. You'll also find more information here, including technical specifications.
Back to all blog posts