The best attachments for the construction industry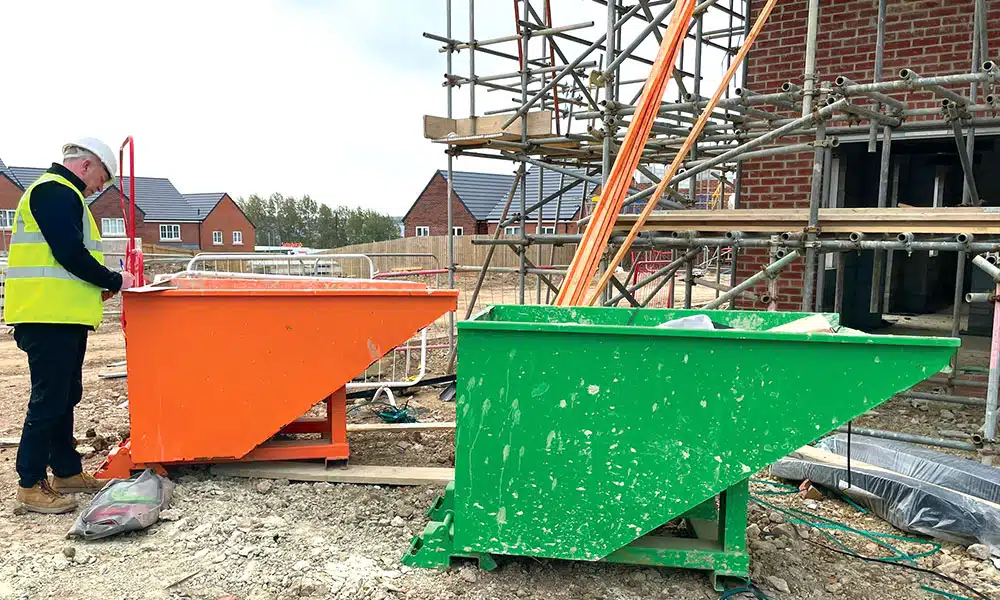 At Invicta, we've been providing construction industry professionals with forklift forks and attachments for more than 20 years. We're confident that if you have a construction problem, we have the solution.
Our attachments are designed to help you work efficiently, minimise risk, improve safety and speed up handling. Manufactured in-house at our Yorkshire base and built to last, we work with a wide range of budgets from businesses large and small. Above all else, we take the time to understand your business and requirements to make sure that your problem is solved.
Here are some of the common problems we hear about from the construction industry, and how Invicta products can help save time and increase safety.
The best forklift attachment types used in construction
Auto Lok Tipping Skip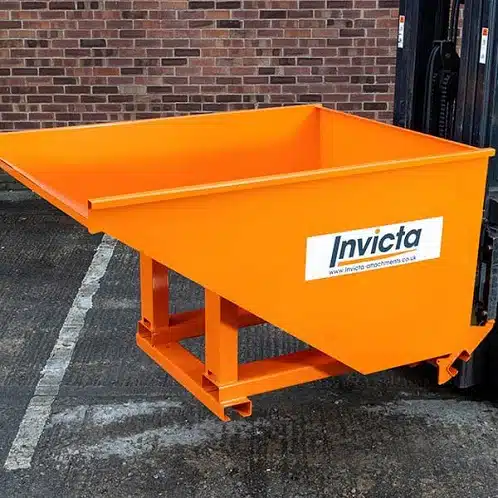 Are you losing valuable man hours by manually emptying waste? The Auto Lok Tipping Skip can help you reduce risk and increase efficiency.
The Auto Lok Tipping Skip makes the emptying process quicker and easier. The driver simply drives the forks into the pockets and the automatic mechanism will lock itself to the forks. That means that when elevated, the driver doesn't need to exit the safety of the cab when lifting and emptying – ideal for busy construction sites.
Boot Wash Station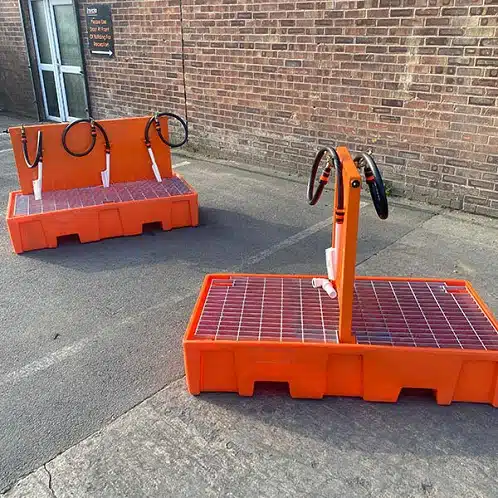 Is dirty footwear on-site creating a safety risk? The Boot Wash Station is a straightforward way to keep your construction site clean and safe.
Sometimes also referred to as a 'boot wash trough', our Boot Wash Station is an inexpensive and easy-to-install unit that helps you keep your site buildings clean of dirt. It is designed to effectively clean site boots and footwear of dirt and mud. The construction worker simply stands on the grill and uses the included taps and brushes to clear away dirt, and then wastewater is collected below for disposal. Up to 3 workers can use the station at a time but a conjoining piece is available to extend to multiple boot washes, which is perfect for larger construction sites.
Crane Pallet Forks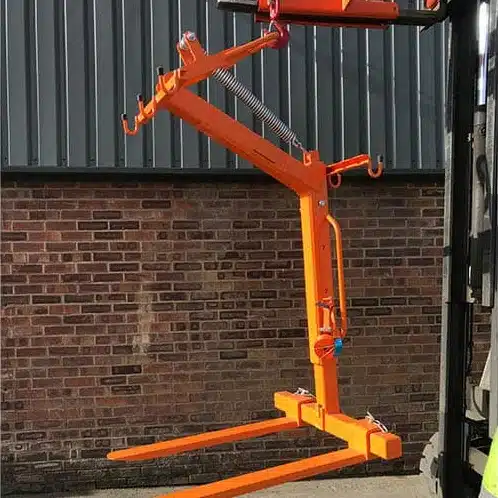 Are you struggling to move pallets to those hard-to-reach places? Convert an overhead crane into a pallet mover when space is tight on your construction site with our Crane Pallet Forks.
If a forklift truck isn't an option on your construction site due to a lack of floor space (a common problem at sites for high-rise developments, for example), converting an overhead crane into a pallet mover is a great option. Our crane forks are equipped with adjustable forks, height adjustment and an automatic balancing sprung head and allow you to move pallets while saving space.
Boat Skip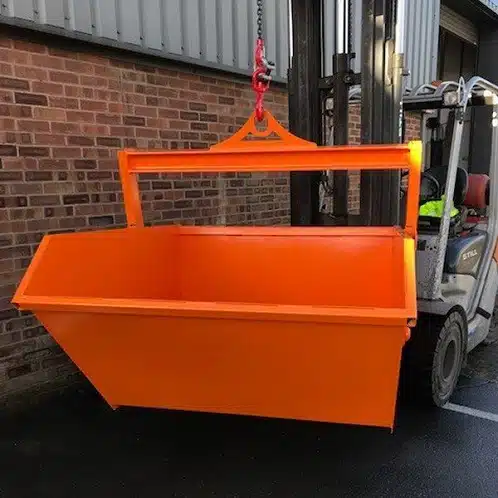 Are you wasting time on-site with manual handling? Reduce risk and automatically lift and move materials with the Boat Skip.
Our Boat Skips include a self-dumping system to automatically lift and empty products without the need for any assistance. They're extremely popular choices for the construction industry and are ideal for moving building materials such as cement. The automatic operation eliminates the risk of danger to the operative, and our robust manufacturing ensures it can withstand the toughest of environments.
Whether you need to increase safety, speed up your operations, or keep your site clean, we're confident that have a product that can help you do just that. With a stock value of circa £1m and around 2,500 products all waiting on-site at our Leeds base, popular items being unavailable is rarely a problem. We offer a highly-responsive service and can turn around queries quickly.
In addition, alongside our standard range of forklift attachment types used in construction, our bespoke capabilities mean we can tailor a solution to your specific problem. We'll help you identify if you need us to adapt one of our standard products or if you need a bespoke solution developed specifically to meet your needs. Either way, we're committed to getting you the products you need.
If you'd like to find out more about any of the products featured in this post, or you'd like to chat about a bespoke solution for your construction site, please get in touch. You can contact us on 0113 277 1222 or sales@invicta-attachments.co.uk.
Back to all blog posts