Improving efficiency with Auto-Lok: 3 key uses
In the world of material handling, innovation is a huge part of productivity. That's why here at Invicta we offer a range of cutting-edge solutions for different industries and applications, all designed to improve operations by making day-to-day work quicker and easier. The Auto-Lok Telehandler Skip has long been one of the most popular Invicta products. Combining improved safety and efficiency, it's helped speed up the workloads of businesses around the UK.
Today, we're delving further into the capabilities of the Auto-Lok and exploring some of the different ways it can help revolutionise processes across different sectors.
The benefits of the Auto-Lok telehandler skip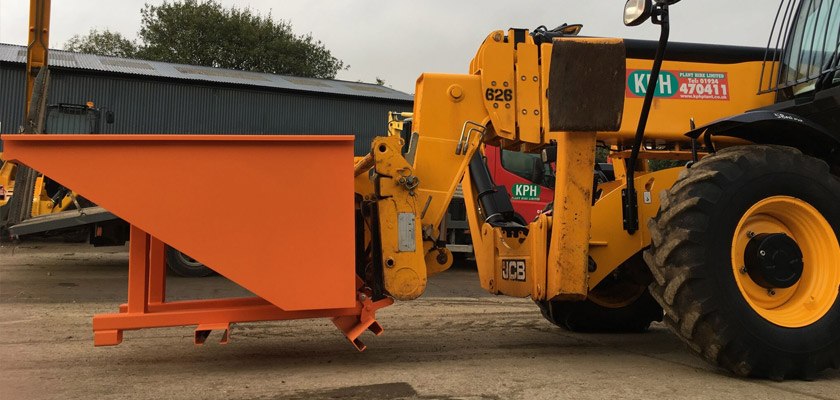 Before we explore some different applications, let's take a closer look at the specs and great benefits of the Auto-Lok.
Designed to reduce risk and increase efficiency during the emptying process, the Auto-Lok represents a new era of forklift and telehandler skips. We know that the traditional emptying process can often be dangerous, labour-intensive and time-consuming. However, with the Auto-Lok, the operator remains in the safety of the cab during the entire emptying cycle, reducing emptying time and ensuring safety.
The Auto-Lok telehandler skip is designed to be simple to use. Simply drive your forks into the pockets and the automatic locking mechanism will lock itself to the forks of the telehandler when elevated. That means you can transport materials around a site easily and effectively. Once the skip is lowered and placed on a solid surface, the auto-locking mechanism is disengaged. Simply retract the forklift forks from the skip, and it's ready to use again.
Features at a glance:
Fully welded body to prevent leakage and increase strength
Automatic locking mechanism on elevation, and disengagement when placed on a solid surface
Double-pressed returns on the body side, giving increased strength and rigidity
Angled reinforced loading edge for durability
Painted finish, available in different colours (ideal for waste separation)
4-way fork chassis for ease of positioning and lifting in an ever-changing environment.
Tapered body design to allow for vertical stacking
Low loading height
Read the full product description: The Auto-Lok Tipping Skip
Top 3 applications for the Auto-Lok

Waste management and disposal
The Auto-Lok helps you take your waste management to a new level. Whether it's on a construction site or an industrial facility, the Auto-Lok offers a reliable solution for the collection and transportation of various waste materials.
The Auto-Lok can be finished in a range of different colours, allowing for easy differentiation of waste materials and facilitating efficient waste separation. This is particularly handy for operations that manage numerous different types of waste materials, helping to streamline the recycling and disposal processes.
Bulk material transport
The Auto-Lok helps redefine efficiency on construction sites by facilitating the safe and fast transportation of bulk materials, such as sand, gravel, bricks and construction debris. When elevated, the skip's automatic locking mechanism engages, ensuring that the loaded materials remain securely in place during transit. This eliminates the need for any checks or adjustments, allowing operators to focus on the task at hand with confidence.
By keeping operators within the safety of the cab during the entire loading, transporting and unloading process, the Auto-Lok also reduces the potential for accidents or injuries that can occur during manual handling. Not only that, the ability to quickly load and transport bulk materials also speeds up construction timelines. With a reduced need for manual labour when it comes to materials handling, workers have more time freed up for other tasks.
Lifting in high-rise developments
The Auto-Lok can assist you in reaching new heights when working over many levels. High-rise developments can present some unique challenges in material transportation. The Auto-Lok can help by enabling efficient lifting using on-site cranes.
Whilst forklifts and telehandlers are most often used alongside an Auto-Lok skip, they present certain height limitations. To combat this, the Auto-Lok can be securely fastened and lifted by cranes on a construction site, optimising vertical transportation and speeding up the construction process.
Empowering operations
The Auto-Lok tipping telehandler skip offers secure and streamlined transportation of materials, speeding up workloads and making operations safer throughout the country. Its innovative design provides secure, automatic locking, reducing downtime and enhancing worker safety. It's a clear choice for businesses that want to revolutionise their processes and embrace efficiency. As Michael Skelton, Site Manager for Amethyst Homes, attests:
"We've saved time and effort not having to manually engage, disengage and tip the unit. And these savings have been multiplied five times across the site, with the units in constant use. This has made a real contribution to efficiency and health and safety, with operatives not having to leave their cabs."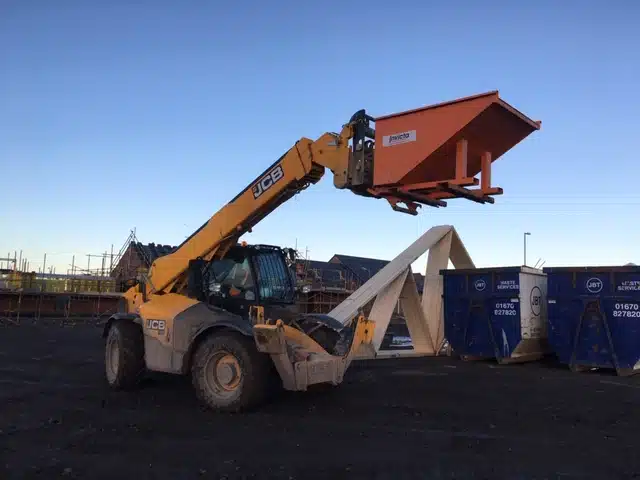 Read the full case study: 5 new Auto-Lok skips for Amethyst Homes
Do you want to find out more about the Auto-Lok tipping skip? Reach out today for a chat about how we can help you improve your operations.
Back to all blog posts