Case study: Increasing safety and efficiency on-site for Amethyst Homes

The Background
Amethyst Homes is a home builder based in the North East of England. We were approached by Kevin Brookbanks, buyer at Amethyst Homes, with a requirement for several new forklift skip attachments for their development in Consett.
The site had historically used traditional self-tipping skips to handle and dispose of waste materials. However, following a discussion with our specialists, Kevin decided to trial Invicta's Auto-Lok Tipping Skip.
The Auto-Lok Tipping Skip has been specifically designed to evolve site waste operations, in both scale and efficiency. The skip's auto-mechanism locks itself to the forks of the truck or telescopic-handler, meaning the driver can remain in the safety of his cab throughout the process.
This mechanism reduces risk and increases the efficiency of numerous on-site operations, including the common practice of telehandlers feeding 40-yard master skips with assorted waste.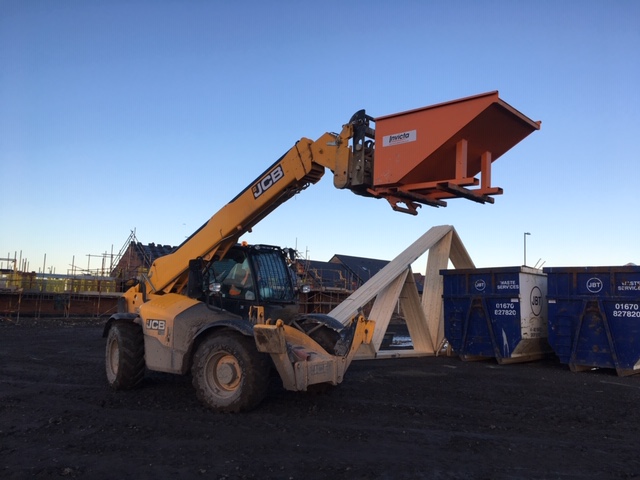 The Results
We delivered the initial order of 5 skips to the site and carried out a demonstration to ensure all staff were comfortable using the new skip attachments. After just two months using the Auto-Lok Tipping Skips, Site Manager, Michael Skelton, describes the units as 'brilliant' and explained:
'We've saved time and effort not having to manually engage, disengage and tip the unit. And these savings have been multiplied 5 times across the site, with the units in constant use. This has made a real contribution to efficiency and health and safety, with operatives not having to leave their cabs.'
Kevin Brookbanks confirmed that:
'When looking to increase skip numbers on site, I'll always request the Auto-Lok model from now on.'
Do you want to speed up waste disposal processes on site? Talk to us today about finding the right forklift skip attachments for your operation.
Back to all blog posts