Why buying a forklift isn't the only solution….
Forklift trucks are essential to a whole range of industries.
However, for many businesses, it's not practical or financially viable to invest in a fleet of forklifts to carry out a diverse range of materials handling tasks.
But when you add mechanical forklift attachments into the mix, then that's when your forklifts go from being valuable, to invaluable pieces of machinery.
Mechanical forklift attachments are available in a huge range of configurations. And they allow you to get more use from your current forklift truck. One glimpse at our product range, and you'll see there are attachments for: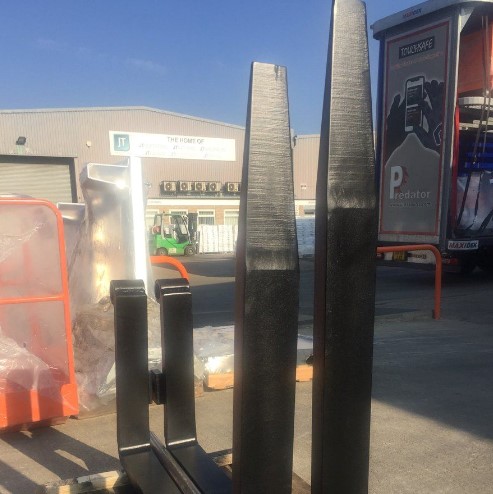 And if you need a replacement fork or mechanical attachment that does something more than the average product, then we can provide you with a bespoke attachment that's tailored to your needs.
Take these forks, for instance, that have sped up an everyday process for this customer. Their custom lengths have made the process of loading more streamlined. The customer is using the same forklift for the task, but the new forks have amounted to significant time savings.
And time is money, after all!
While there may be all sorts of different attachments to choose from, all these different options provide you with even more ways to get more from your forklift truck. Plus, there's the fact many forklifts can be used to carry out more than just one job too. For instance, ploughing and gritting, and sweeping and magnet clearing.
The end result: One forklift + several forklift attachments = greater ROI all round.
Want to discuss getting more from your vehicles with the right forks and fork attachments? Why not send us a message? Tell us what you're hoping to achieve and we'll recommend the right products to fit.
Back to all blog posts