Why 'bespoke' is our middle name
We've been established for almost 100 years and during that time, we've made a name for ourselves as being an industry-leader in the world of forklift truck forks and attachments.
From scissor forks and fork extensions to hooks, scoops and magnets, we stock the widest range of standard attachments. And because we manufacture to stock, not to order, many of our items are available for immediate dispatch.
But it's not just our ability to turn around standard attachment orders that sets us apart from the competition, our bespoke capabilities are in a whole league of their own too.
Thanks to our extensive in-house expertise and knowledge, coupled with the fact we manufacture everything ourselves on-site at our premises in Leeds, we excel at providing our customers with tailored solutions to their problems.
Here at Invicta Forks and Attachments, we're more than just product suppliers, we're problem-solvers and developing and manufacturing bespoke forklift attachments that add value to businesses is our passion.
Our ingenuity knows no bounds – our team of specialists are constantly redefining the boundaries to meet our customers' specific requirements
One of our latest bespoke forklift attachments is the Auto-Lok Tipping skip, which is our second-generation tipping skip. Not only is it capable of minimising risks on construction sites, it's designed to help forklift drivers do their job more efficiently.
Take a look at our Roll Cage Lifter too – it's ideal for supermarkets and sets the standard for safe and secure product roll cage handling. We decided to create this attachment after we developed the LoadLifter for one of the UK's main supermarket chains. Since then, we've made hundreds of them, which led to us producing the Roll Cage Lifter.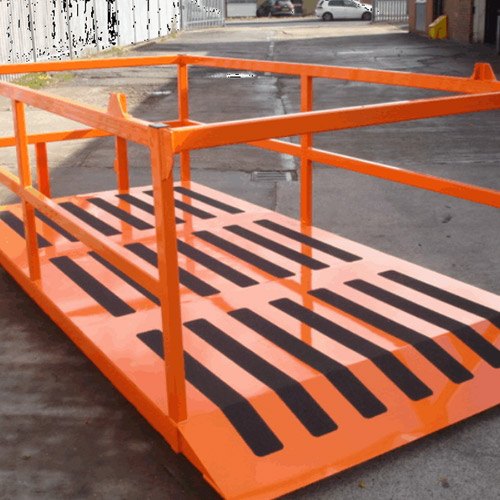 Then there's our Serrated Teeth Clamping Plates, which are mainly used to transport waste paper bales at waste recycling centres. Using existing hydraulic forks, this attachment can be turned into a hydraulic clamp, effectively providing customers with two attachments in one!
When it comes to developing and manufacturing bespoke forklift attachments, we're undisputed leaders within our field. No matter how large or small your forklift truck-related problem might be, we can help you overcome it.
Bespoke is what makes us tick, as you can most probably tell by the examples we've just shared with you. However, they're only a tiny snapshot of what we're capable of doing. Head over to our Bespoke section, where you'll find more practical examples of our creativity at work.
You can also find out more by getting in touch with us on 0113 277 1222 or sales@invicta-attachments.co.uk and if you have a bespoke forklift fork or attachment you'd like us to manufacture, then we'd be more than happy to discuss your requirements with you.
Back to all blog posts