When to replace forklift attachments
When to replace forklift attachments
Forklift attachments may be big and bulky, but as with all pieces of equipment, there comes a time when they will have had their last lift, so to speak.
There's no hard and fast rule to when this will happen as forklift attachment wear and tear is mainly dictated by the environment in which they've been used and how they're being operated.
Industry-leading forklift attachments, like ours, are built to last. But to maintain safety levels, it's always essential to be mindful of the signs that they may need to be changed. Wondering when to replace forklift attachments? We've listed some of the signs below:
Worn load markings
If you can no longer read the load markings, then it's time to have your attachment inspected or potentially replaced, as this could majorly compromise safety. The same principle applies to any other markings that have become illegible over time too.
Visible damage
It's an obvious point, but an incredibly important one. If you know that your attachment is damaged in any way, e.g. cracks in welds or the material, damage in critical places, worn or missing parts, then it won't be operating to its full potential or safely.
Faulty mechanisms
Faulty locking mechanisms, tipping mechanisms etc., can compromise operator safety, as the attachment may not be functioning properly and, in worse case scenarios, can come away from the fork.
Binding noises
As well as being able to see, you'll be able to hear if your attachment isn't working correctly. In most of these instances, two surfaces binding or other 'warning' sounds are usually generated by parts that have become worn. If your attachment starts to make a sound it never used to, don't ignore it.
How forklift attachments are used and where they're used can impact their lifespan and, of course, how they're looked after can also influence how long they operate for too.
We always advise our customers to maintain their forklift attachments in line with the maintenance sheets we have for each of our attachments. Regular inspections also go a long way in identifying any potential problems before they become an issue and compromise safety or impact downtime further down the line. It may even be possible to repair or refurbish the forks or attachment and continue using them.
Here's an example of some forks we refurbished for a customer: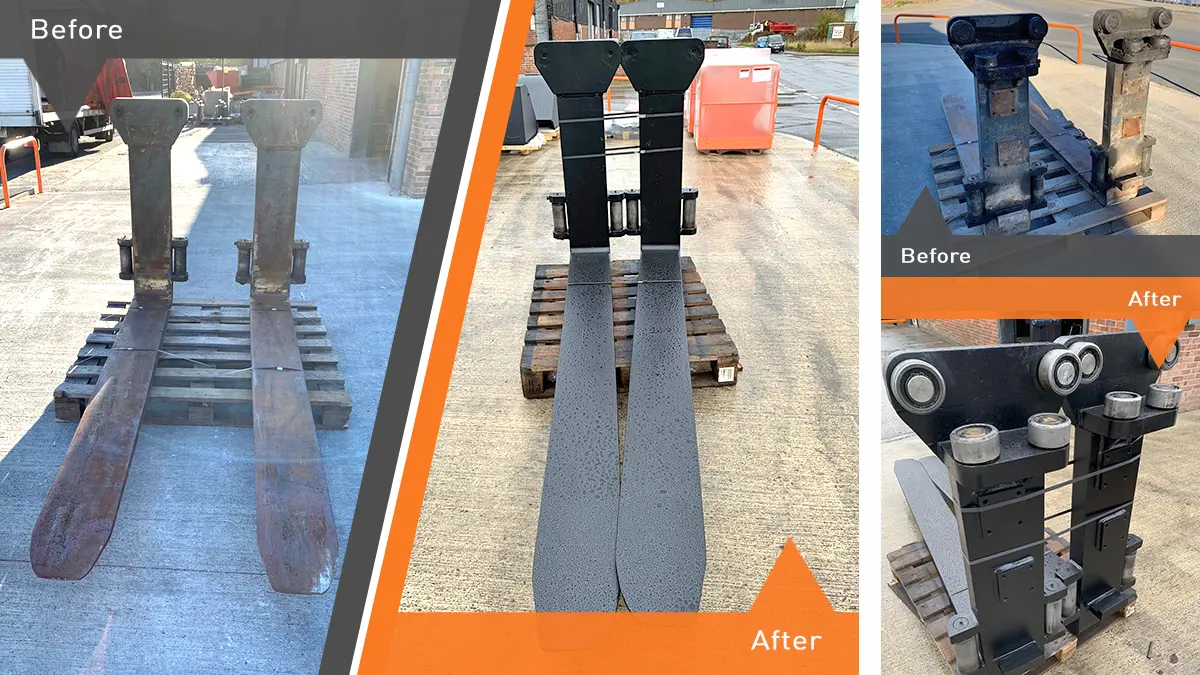 The best way to get the best from your forklift attachments for as long as possible is to look after them and maintain them. There will come a day when they'll need to be replaced or repaired, but if you follow this route, then hopefully it won't be anytime soon.
For more information or to discuss your forklift attachment requirements with us, contact us on 0113 277 1222 or sales@invicta-attachments.co.uk. Want to find out more about what makes our forklift forks and attachments so industry-leading? Check out this blog, 'Designing forks and forklift attachments with the Invicta Difference.'
Back to all blog posts