The top 5 benefits of sweeper attachments
Finding the right attachments for your operations can speed up workloads and allow your workforce to perform tasks more efficiently. At Invicta, we're a one-stop shop for all materials handling issues in the UK. Thanks to our unrivalled expertise, in-house manufacturing and passion for problem-solving, there's nothing we don't know about forklift truck forks and attachments.
Today, we're talking about sweeper attachments. Our Fork Mounted Sweeper, also known as the Basil, is a quick and easy solution for all your sweeping tasks, comes in a range of sizes and boasts a whole host of handy benefits. Here are five reasons why a sweeper attachment like the Basil is a great investment for your business.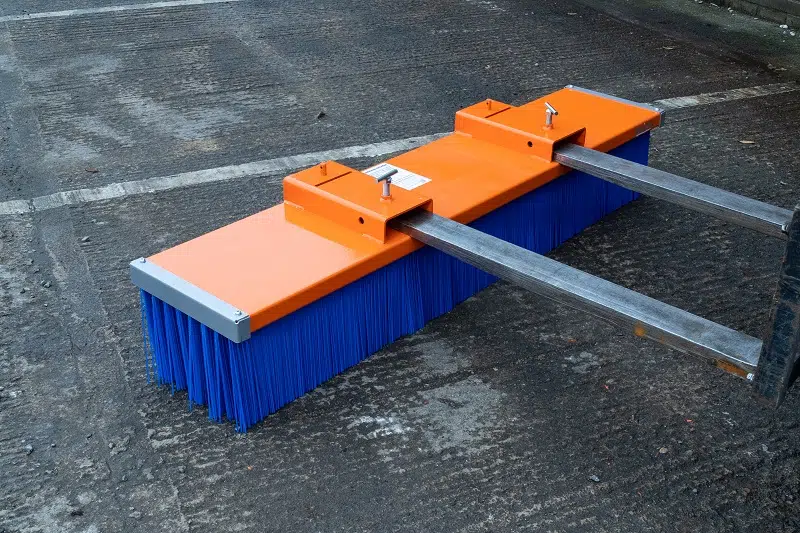 Time-saving
Ultimately, the right attachment will save you precious time and rapidly reduce handling times, allowing your workforce to get more done, more quickly. A sweeper attachment takes away the need for manual sweeping – something that can be a long and laborious job – and makes it quick and easy.
Unbeatable performance
A forklift attachment allows you to perform tough jobs with complete ease, taking the strain off your workers. The basil makes light work of sweeping and is both fast and effective. With a total of 8 brush rows on our standard Basil range, it's been tailor-made to tackle large open spaces and heavy masses while maintaining optimum performance.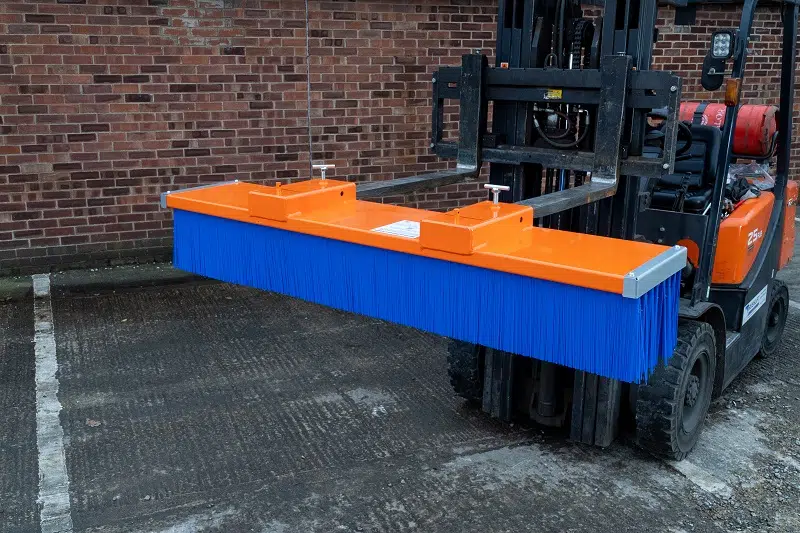 Manufactured to last
We're committed to always providing Invicta customers with products that are of the highest quality. Everything we manufacture is made to last; our forks and attachments are an investment for your business that we're confident pays off.
Our premium quality sweeper attachments are manufactured in-house at our warehouse in Leeds and are durable enough to withstand the toughest of environments and the test of time. All our products comply with the latest industry standards and regulations.
Versatile uses
Our sweeper attachments are multi-purpose and are perfect for making a range of otherwise tedious jobs speedy and straightforward. The brushes can be used for virtually any sweeping task, including:
Clearing yards of rubbish
The usually lengthy job of clearing yards can be completed in minutes with the help of a sweeper attachment.
Clearing snow in the winter months
A sweeper attachment can sweep light to medium snow and sleet, ensuring you can keep production moving during the winter months.
Clearing mud or water after rain
You can use a sweeper attachment to sweep large puddles of water or any mud that has gathered in a work yard.
Sweeping warehouses
Simply and easily sweep up loose pieces of rubbish, packaging and papers from a warehouse floor, ensuring a clean and tidy workspace.
Piling loose materials and granule products
A sweeper attachment is perfect for sweeping and re-piling loose materials and granule products like sand, topsoil, grain or similar.
Multiple options to choose from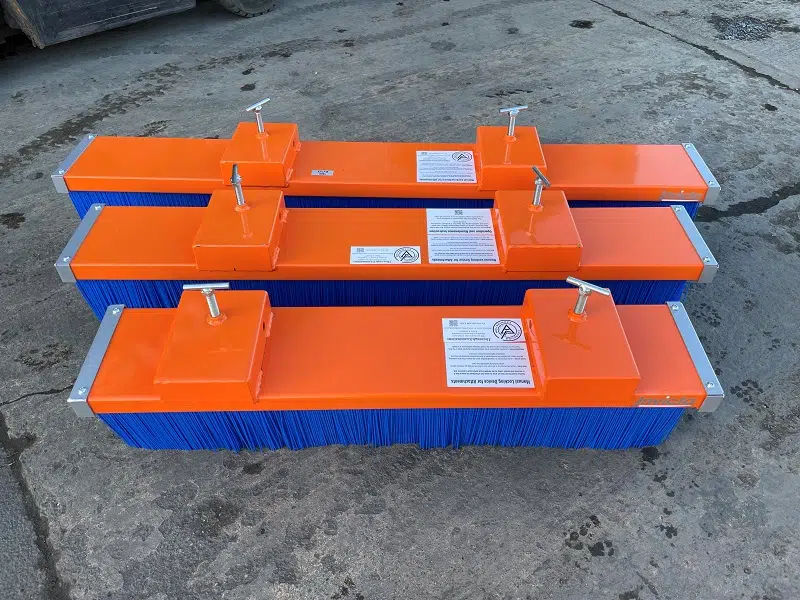 The Basil is available in a range of width combinations and brush row combinations, so can meet the demands of a number of different needs and users – from large construction companies to smaller industrial operations. The standard Basil range comes with 8 rows of brushes and is ideal for heavy-duty sweeping tasks. There are three different brush widths available: 1500mm, 1800mm, and 2450mm.
We know that many businesses would benefit from a smaller sweeper for lighter work, or are looking to make cost savings compared to other products on the market. That's why we created the Eco Basil range, a smaller and cheaper alternative to the standard Basil sweeper. The Eco Basil has fewer brush rows – 5, and comes in a choice of three, slightly smaller, brush widths: 1200mm, 1500mm, and 1800mm.  The Eco Basil is the perfect choice for focusing on smaller areas and weights, or simply for those on a smaller budget who'd like to invest in a sweeper attachment.
If you'd like to find out more, take a look at our Basil product page where you can see all product options and download a spec sheet. If you have any questions, let's chat – you can get in touch on 0113 277 1222 or sales@invicta-attachments.co.uk.
Back to all blog posts