Safe lifting with telehandler man baskets
Using a telehandler man basket attachment is a safe and efficient way to lift workers. Short for 'telescopic handler', telehandler forklifts are built specifically to handle, lift and move materials, thanks to their crane-like boom that can extend upwards.
Telehandler man baskets are access platform attachments that can be used to lift workers safely, allowing them to work at height.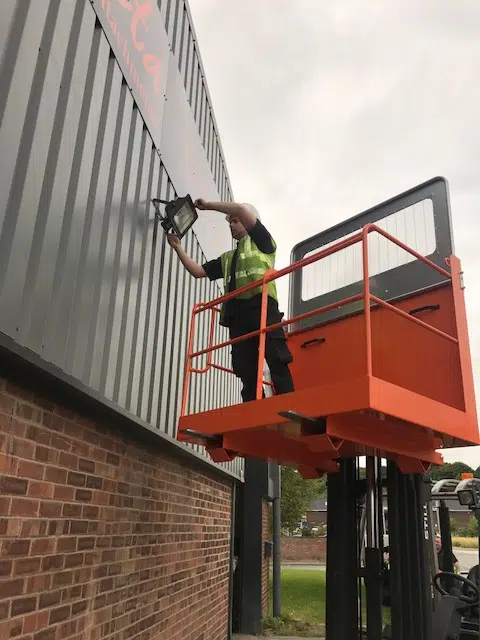 Work safely at height with telehandler man basket
Man baskets for telehandlers offer a risk-free way to work at a height. While most telehandlers are used for the safe lifting and moving of materials, the use of a man basket or access platform attachment enables them to be used to lift people.
Telehandler Fork Mounted Wide Access Platform
Our wide-access platform for telehandlers offers a safe and secure way to lift up to two workers at a time. The platform is available in two lengths:
GR-AP-1: Platform base size 1500mm x 950mm x 2120mm (L x W x H)
GR-AP-2: Platform base size 1800mm x 950mm x 2120mm (L x W x H)
Both platforms have a capacity of 250kg, C o G of 330mm, and are accessed by a lift-up bar.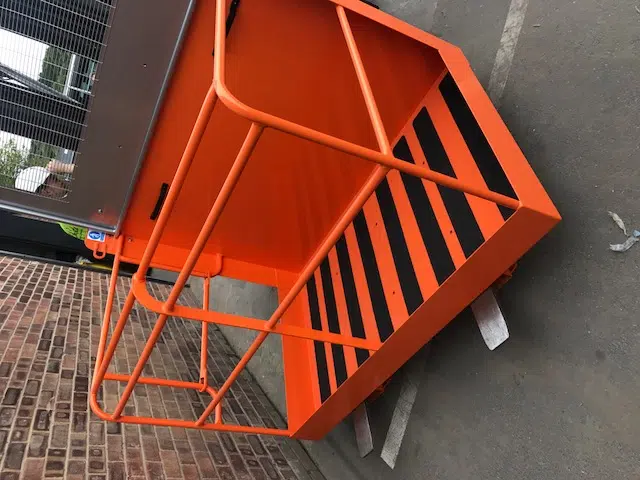 Telehandler man basket features

As standard, our telehandler wide access platform has the following features:
A hinge back guard for ease of transportation and storage
Safety harness attachment rings
Self-draining non-slip floor
Internal handles
Stilt pressing to elevate fork pockets
Zinc plated heel pins for safe attachment to truck
Maximum fork section 150 x 50 mm at 785 mm centres
Painted bright orange for safety
A safety harness is available as an optional extra.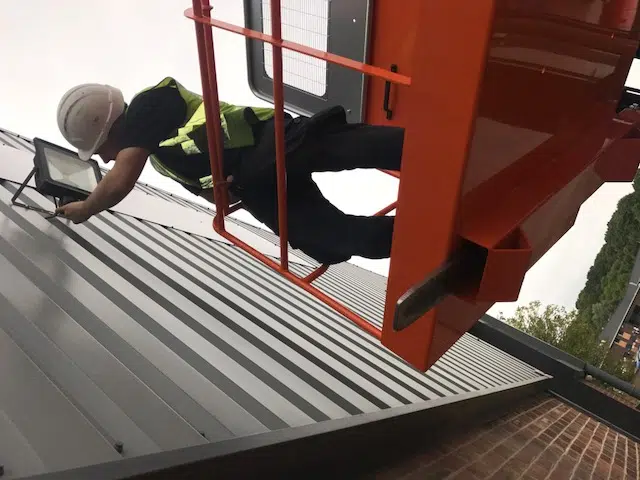 Safety tips for man basket for telehandlers
We ensure that every attachment we manufacture is made to be as safe as possible. When working with a telehandler man basket, however, there is some safety advice to take into account to ensure you and your workers are staying as safe as possible.
The manager of the department or section where the telehandler man basket is to be used is responsible for ensuring the operators are fully conversant with the attachment, operation, and maintenance.
The width of the platform shouldn't exceed the outside width over the truck load wheels by more than 250mm either side.
The handbrake of the fork truck must be applied when elevating and lowering the access platform, and at all times when in use.
The mast should always be kept in a vertical position.
The Heel Pins should be correctly inserted, retained and positioned in relation to the heel of the fork prior to every use.
The maximum load of the access platform should never be exceeded.
The telehandler driver should remain seated and in control of the vehicle at all times while the access platform is in use.
A slow, uniform pace should be maintained when moving and positioning the access platform.
A safety harness should be used at all times.
When in an elevated position, the access platform should not be re-positioned.
Hands and fingers should be kept clear of all moving parts to prevent trapping.
Man basket for telehandler regulations
At Invicta, we follow all the necessary regulations to make sure every attachment we manufacture meets the industry requirements and regulations. All of our access platforms are fully compliant and manufactured in line with the Health and Safety Executive's latest guidance.
Do you have any questions about our telehandler access platform? Get in touch with any questions and find out how we can help you improve your operations.
Back to all blog posts