How our fork extensions helped one port operator reduce damage and risk
Due to our bespoke expertise, we often receive calls from companies asking if we can help their customers with very specific problems that are hindering their day-to-day operations.
In this instance, we were contacted by an established materials handling equipment supplier, who wondered if we could help one of their customers, a port operator, who required specialist support.
An expensive problem
The port operator had a problem with handling coils of steel through the core, which was not only very expensive, but was marking the steel. This meant that the end product was damaged by the time it reached the end user, which was far from ideal.
The operator wanted to still be able to use their existing torpedo-shaped fork extensions to handle the coils and wondered if we could adapt them to overcome the issues they were experiencing. They ideally wanted us to recover them in non-marking rubber.
The previous forks: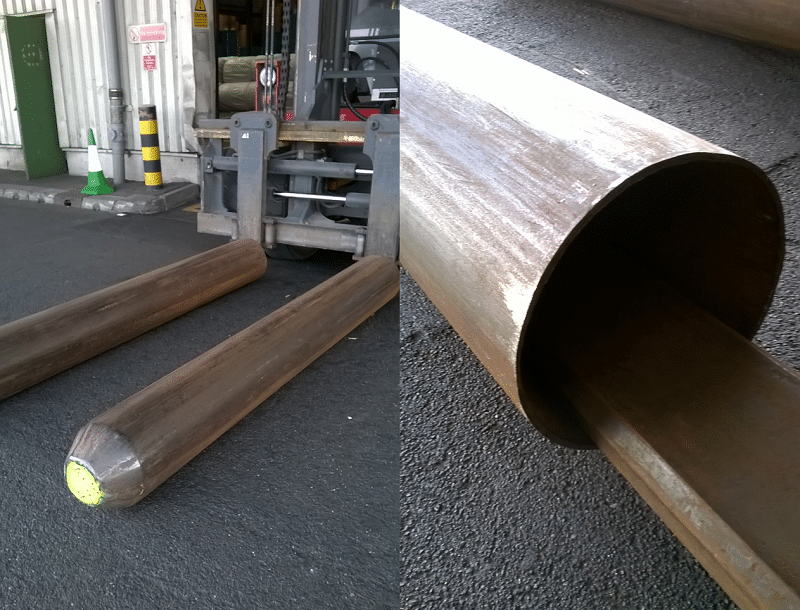 Multiple sticking points
However, when we saw the fork extensions, we knew the design of them simply wasn't suitable for recovering.
More importantly, we also discovered they didn't have any identification marks on them. So, not only did this mean we couldn't test them properly because there was no way of determining their weight capacity, it also meant they didn't comply with the Health & Safety at Work Act 1974.
Further investigations also revealed that there was no way of securing the extensions to the forks to prevent them from slipping off (four tonne of steel can very easily slip off in not fixed in place).
Fit for purpose forklift extensions
We recommended replacing the existing fork extensions with a set of our fork extensions that:
Incorporated a positive heel pin retention for safer operation
Were fully compliant with the latest CE directives
Featured a convex top surface with a special non-slip, non-marking coating
We manufactured three sets of these extensions, with a blade length of 2700mm. The fork sections on the two trucks on site were 200cm x 100cm and 200mm x 70mm respectively.
The new solution: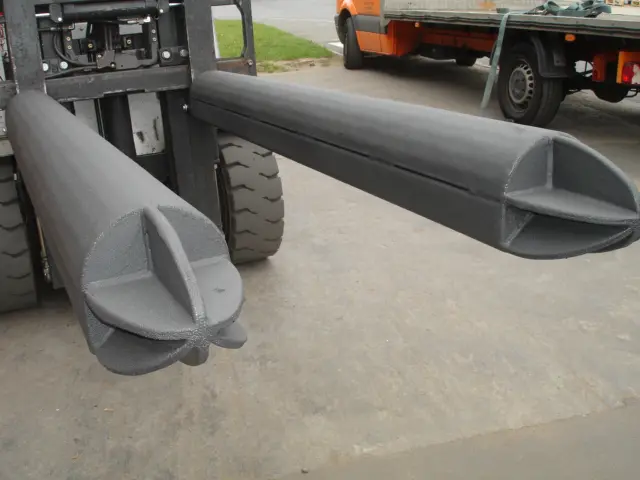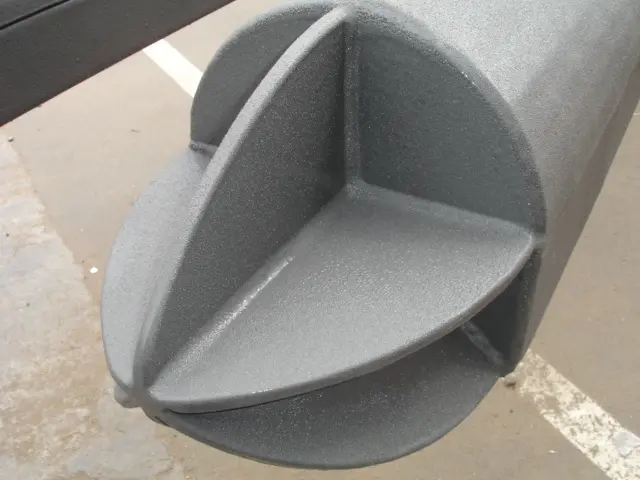 And, having seen the new extensions at work, it's safe to say the port operator can now carry out their work with maximum efficiency and compliance and minimum damage and risk.
That's another satisfied customer and another bespoke solution from our industry-leading team of engineers. For more details about our bespoke expertise, read this blog, 'Why 'bespoke' is our middle name.'
If you'd like to discuss your standard or bespoke forklift fork or attachment requirements with us, contact us on 0113 277 1222 or sales@invicta-attachments.co.uk.
Back to all blog posts