Our popular tipping skip forklift attachment just got smaller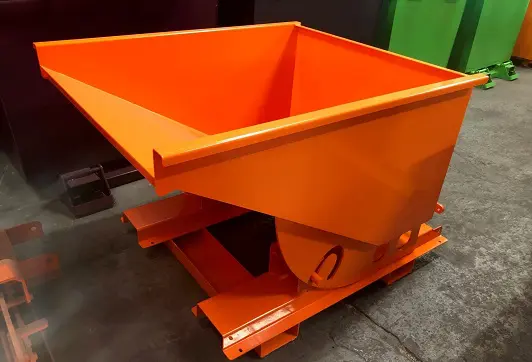 Our popular tipping skip forklift attachment just got smaller
Our ICUS range of tipping skips are among our best-selling products.
Let's take a look at why they're such a firm customer favourite. And why we've made them smaller than ever now too! Keep reading for details of the new dimensions:
1. Unique base
The four-way entry base is designed to aid positioning and provides options for picking up with a forklift within restricted spaces.
2. Automatic tipping
This particular skip forklift is operated manually. But if it's fitted with one of our conversion kits then it automatically tips once it's been elevated and then lowered on to the side of a yard skip, making light work of emptying it.
3. Safer handling
The automatic tipping functionality means the driver can work from the comfort and safety of their seat. This also helps them to work more efficiently and means they don't have to work at height, which they would usually have to do to pull a manual handle.
4. NEW FEATURE: Compact design
This particular skip forklift attachment has just got a whole lot smaller!
Whereas, the previous four models – ICUS-1, ICUS-2, ICUS-3 and ICUS-4 – range from 1,600 to 1,800mm in length and 1,060 to 1,560 in width, our recently-unveiled smaller model (ICUS-0) has the following dimensions:
| | | | | | | | |
| --- | --- | --- | --- | --- | --- | --- | --- |
| Nominal capacity (m3) | Capacity (kg) | Body length | Body width | Body height | Weight (kg) | C of G (mm) | LLC (mmc) |
| 0.5 | 400 | 1220** | 1030 | 690* | 166 | 760 | N/A |

*Add 205mm to body height to give overall skip height
** Add 230mm to body length to give overall skip length
Smaller skip, same safety features
The ICUS-0 may be smaller in size, but that doesn't mean it's any less of a force to be reckoned with. You'll still find it incorporates all the safety features, including:
Positive heel pin retention
Secondary lock
Optional auto tip action
Castor facility
Fully sump sealed, double pressed sides
You may be wondering why we needed to add another skip to our ICUS forklift skip attachment range when we already have four, high-performing models.
The answer – the ICUS-0 has been designed in response to demand. Our manufacturing, hire market and construction customers, in particular, needed a lower, narrower and lighter skip.
And here it is, in all its small and perfectly-formed, super-safe glory….
Introducing a new addition to the ICUS combi skip range…

WATCH to find out how this compact, lightweight skip is perfect for manufacturing applications! ?️ pic.twitter.com/Tif4CQ8iIE

— Invicta Attachments (@Invicta_attach) October 21, 2019
Got any questions about our new, smaller ICUS-0 tipping skip or want to find out how the range can help improve safety and operations on your site? Contact us today for a quote on 0113 277 1222 or sales@invicta-attachments.co.uk.
Back to all blog posts