Our custom forklift fork manufacturing capabilities – in action
Not a day goes by when our team of engineers don't put their bespoke forklift fork and attachment skills to the test.
Large or small, complex or straightforward, they excel at providing businesses with custom forklift forks and attachments. It's why you'll often hear us refer to the fact that we're problem-solvers, not just simply product providers.
It's one thing telling you about our bespoke capabilities, but the case study we're going to share with you shows you just how pioneering we really are:
This particular case study involves a forklift dealer, who asked us to help them with a challenge facing one of their customers. They were having difficulty handling 1,000kg 'big bags' off pallets and were concerned that the bag handle loops would slip off the forks while being lifted.
We visited the site to view the current operations and understand where the difficulties were within the existing processes. The customer initially thought they needed an attachment of some description to be able to handle the bags more easily and safely.
However, using a fork-mounted attachment would be really time-consuming due to it having to be installed and de-installed. Plus, any truck deration would have to be factored in each and every time.
After looking at the existing operation, which involved lifting the bags by entering one fork into each bag loop at a time, we recommended this bespoke solution…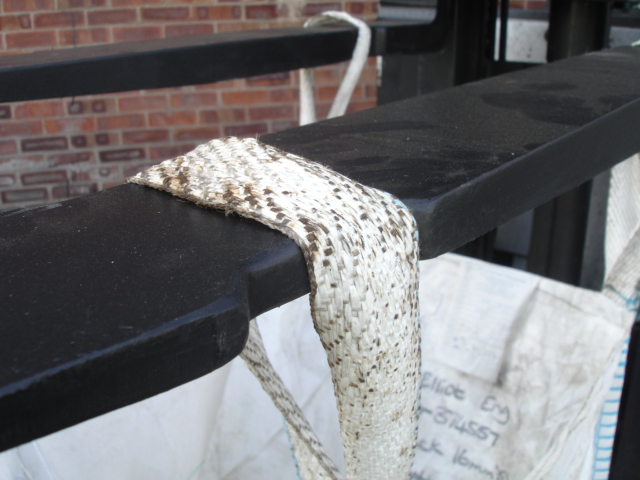 A pair of Invicta forks with machined edges that would accommodate the bag loops in two areas on each fork. And, rather than featuring sharp, blade-like top edges, these particular forks incorporated edges that had been softened to prevent them from snagging the handles and causing damage.
After discussing our bespoke solution with site workers, which included the forklift operators and health and safety staff, we drew the design up and presented it to them. Shortly afterwards, we were asked to make a trial set of forks.
Within 10 days, the first pair of custom-made forks had arrived on-site. They were fitted to the main truck in the warehouse with loading responsibility.
Following an initial appraisal period, a second pair of these forks were ordered that would also be used in the same area, safely increasing the throughput in the process.
The customer was pleased with our bespoke solution, which meant they could safely handle the big bags. What's more, no additional attachment was required that could compromise the speed of operation. And there was also no loss of truck capacity, as the bespoke load arms are a standard size and the machining on the blades do not derate the fork in any way.
That's another set of bespoke forklift forks from our team and another happy customer. Got any questions or want to discuss your custom forklift attachment requirements with us? Contact us on 0113 277 1222 or sales@invicta-attachments.co.uk.
Back to all blog posts