New forklift equipment – Lifting attachments
New forklift equipment – Lifting attachments
Waste handling is made easy with the right equipment
Making essential processes faster, safer and less hassle is the reason we exist
It's possible to do many tasks with a forklift if you have the right equipment. There may be tasks you thought needed specialist equipment, but with the right fork attachments, you can complete them in no time at all, using the forklift truck you have on site.
To show you what we mean, here are two of the most recent additions to our product range:
New products – Lifting attachments for waste handing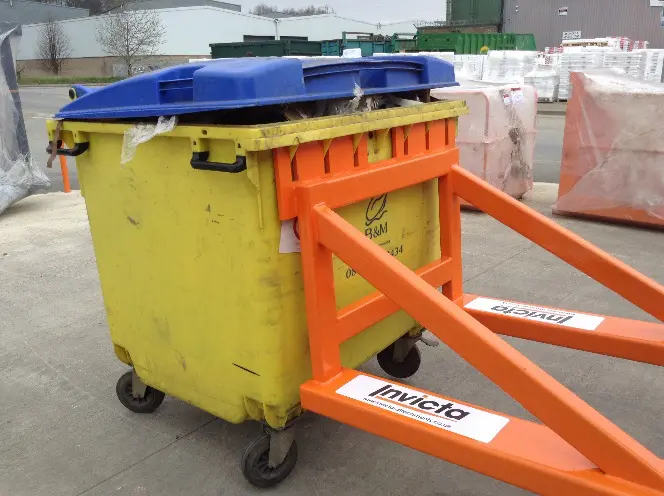 Wheelie Bin Stack Lifter
Lift and move wheelie bins with ease to a max of 500kg, reducing manual handling efforts.
It's been designed to make loading and emptying less manual. Manual processes are time consuming and often carry increased risks of injury to operators.
The bin lifter can accommodate 2 stacks of 120 or 240 litre wheelie bins, or 1 stack of 1,100 litre bins. It's held in place by heel pin retention with forks up to 1200mm long, or thumbscrew retention.
Like all our products, the bin lifter can be created to fit custom dimensions. We regularly take standard attachment designs and adapt them to fit a customer's challenge. Look at some of the other products we've made bespoke in our case studies.

Portable Toilet Lifter
Moving portable toilets around building sites is a task nobody wants to do.
But it can be made easier and cleaner with this attachment. With both fork and crane operation, the attachment is versatile and can be used by forklift operators. It lifts and carries portable toilets around sites, including lifting them up levels on high-rise developments.
The built-in sump and drain tap have been included to catch any nasty spills!
These two products might not be the most appealing attachments in our range, by any stretch of the imagination! But they go to show that, with some creative thinking, laborious and unpleasant jobs can be made easier for those who do them day in day out.
Having the right forklift attachment for the job at hand isn't just a convenience, it saves you money every day. Increased efficiency means reduced operating costs and more time for your team.
Got a question about any of our forklift forks or attachments? Contact us on 0113 277 1222 or sales@invicta-attachments.co.uk.
Back to all blog posts