Manufacturing forklift skips that are safer, stronger and built to last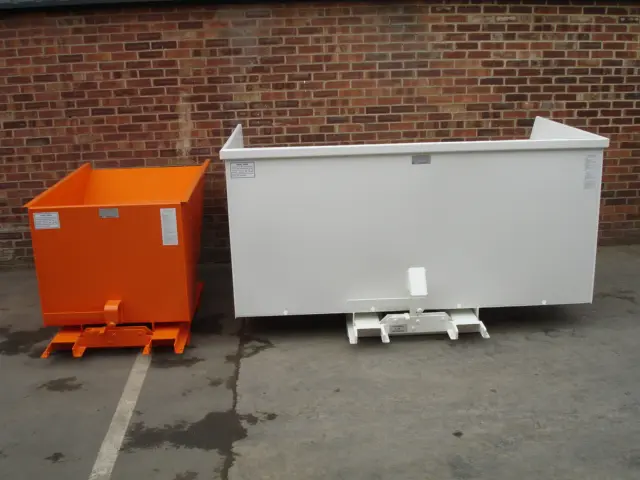 Safer, stronger and built to last: Manufacturing forklift skips with multiple benefits
Forklift skips can only be repaired for so long until there comes a point when they need replacing because they've become so worn and unreliable.
This is exactly the situation one of our customers, ABI UK, found themselves in when they got in touch with us.
As a Yorkshire-based manufacturer of static homes, ABI really prides themselves on the quality of their workmanship and unfaltering attention to detail. So when the old and tired roll forward forklift skips in their welding/fabrication unit started to show their age, they knew they needed to invest in some new ones – especially as the tipping mechanisms had become damaged over time.
One of the first things we always do is visit our customers
This means we can get a proper feel for their work and the environment in which they operate. This, in turn, enables us to manufacture forklift skips, extensions and forks that are fit for purpose.
The same principles applied to this customer. Soon after they contacted us, we visited their site to discuss and fully understand their requirements, then we set to work on designing their new skips for them.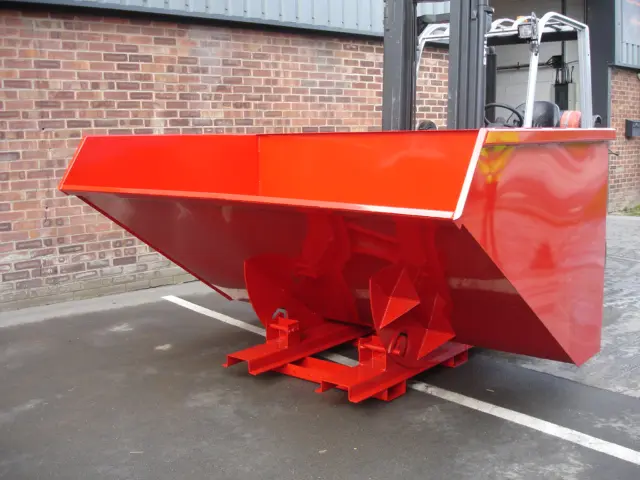 The design was centred around making sure ABI could:
Safely move waste around their site – regardless of how much they produce and the type of waste involved
Shift more waste more efficiently – by doubling the volume of the existing skips to 4.3 cubic meters, which would reduce handling times during busy shift patterns
All in all, we designed and manufactured 21 new forklift skips over 3 separate occasions, each measuring 2,500mm wide. They were colour-coded in red, green and white so that it's clear which skips need to be used, according to the different waste materials that are being disposed of.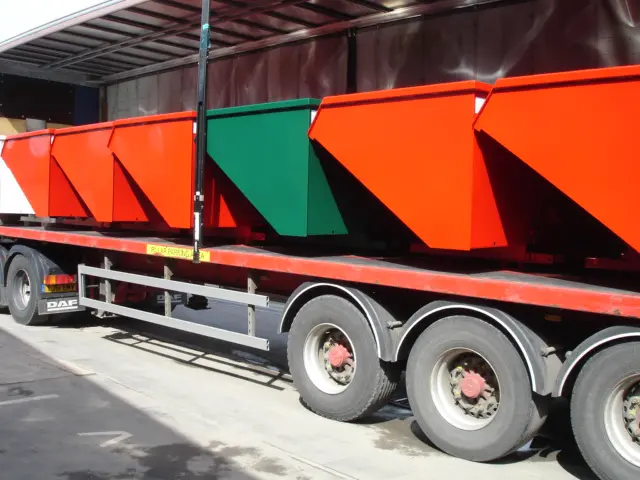 With the initial order, delivery was 6 working weeks due to the design, development and testing of the skips. After the first skips were delivered, subsequent orders took 4 weeks to turnaround.
Because we work to the highest standard, ABI was quick to notice the overall build quality when they took delivery of the skips. Rather than just simply manufacturing new skips that were like-for-like, the replacements were designed to be bigger and better.
Exceeding expectations
We fitted them all with extra gussets around the tipping rockers to provide them with an overall longer lifespan. We also added drainage holes in the bottom to prevent them from filling up with water when it rains and, we further strengthened the release mechanism and heel pin retention areas to make sure the skips don't accidentally slip off.
A few weeks into using the new skips, they got back in touch with us to see if we could slightly adjust them so that they would be even safer and easier to use. We fitted them with auto release mechanisms, which means the operators no longer have to leave their seat to activate the tipping.
Once again, that's another happy Invicta customer, who wasn't just simply provided with another set of forklift skips, but a set of skips that have been manufactured to streamline their operations and improve their overall safety.
If you'd like to discuss your standard or bespoke forklift fork or attachment requirements with us, contact us on 0113 277 1222 or sales@invicta-attachments.co.uk.
Back to all blog posts