Gas cylinder handling tips
Gas cylinders are bottles filled with compressed gas that is held under high pressure. As a result, they're heavy and often difficult to move. In addition, there can be very serious consequences if gas cylinders are mishandled – the cylinder rupturing or leaking can present a significant hazard.

Read on for our top gas cylinder handling tips.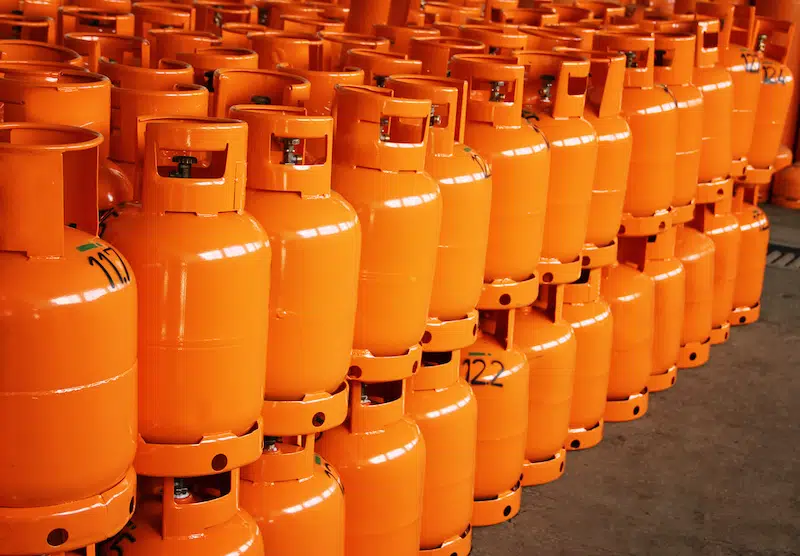 What precautions do you need to take for gas cylinders?
If you're handling, storing or moving gas cylinders as part of your operations, there are important safety considerations to keep in mind. Safe and compliant drum and cylinder handling is vital for businesses, and relevant codes of practice and standards set out by The Health and Safety Executive (HSE)  should always be adhered to.
There are general precautions to observe when handling gas cylinders and compressed gases. Gas cylinders can be used to contain gases that are potentially flammable, corrosive, poisonous, or reactive. Safe handling and necessary precautions are imperative in order to avoid harm to workers or the surrounding areas.

How do you handle gas cylinders?
There are a few gas cylinder handling tips that are helpful to keep in mind when working with gas cylinders.
Safe handling is vital. During manual handling, use both hands and lift the cylinder from the neck rather than the cylinder valve. When transporting gas cylinders with a forklift, ensure they're properly secured and you're using the correct equipment, such as a gas bottle carrier or a fork-mounted multi-cylinder gas bottle handler.
Correct labelling is important. You should always know which gas you are handling. Colour-coded cylinders and labels that identify the contents are important so you're aware of the individual risks.
Regularly conduct safety checks. You should always be careful that gas cylinders aren't showing any concerning signs of wear and tear, such as dents, discolouration or heat damage. If you have any worries, you should contact your supplier.

What is the best way of storing gas cylinders?
When you're not transporting gas cylinders, there are precautions that should be accounted for when it comes to storage. According to regulations set out by HSE, cylinders should be stored in the open air on a concrete or load-bearing surface. Gas cylinders should always be stored:
In a well-ventilated area
In an upright position
Away from any sources of heat or ignition
Away from any building entry or exit points

Gas cylinder handling: our picks
Gas bottle carrier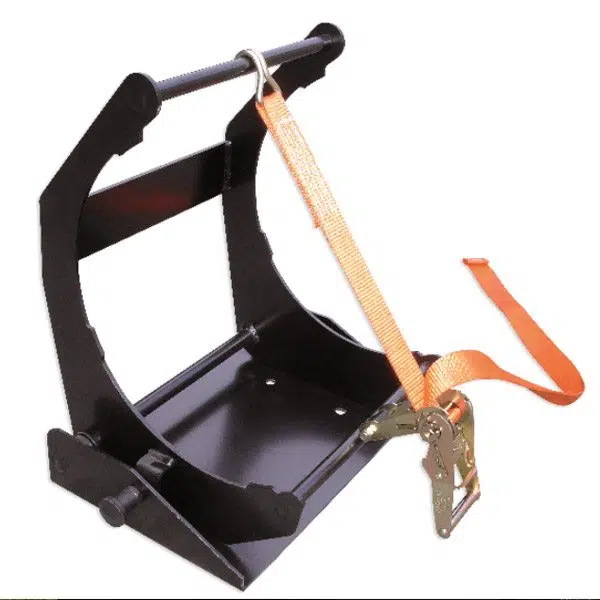 Our gas bottle carrier has been designed to ease the loading and unloading of gas bottles onto the counterbalance weight of a forklift, thanks to its unique hinge mechanism.
Hingeable cradle held in position with spring-loaded plunger
Ratchet strap for safe attachment of bottle to frame
Standard 4-hole fixing pattern
Painted finish in gloss black

Fork-mounted multi-cylinder gas bottle handler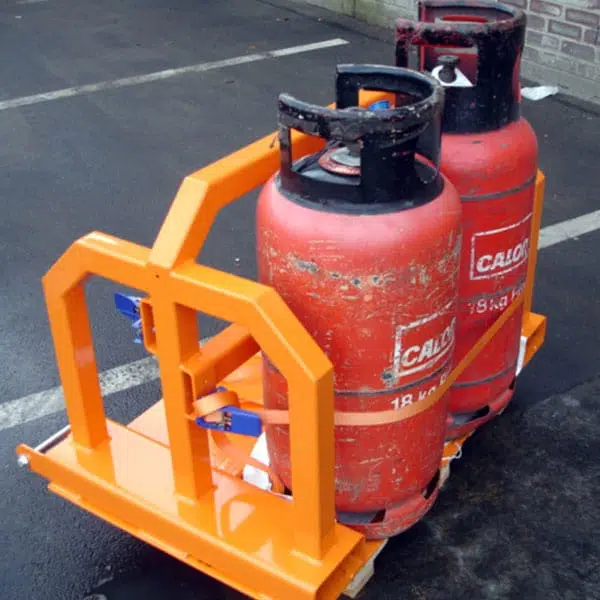 Our fork-mounted multi-cylinder gas bottle handler has been designed to facilitate the safe movement of different types of gas bottles. The handler works with various gas bottles of differing diameters and weights.
Robust and sturdy
Low loading height
2 off webbing ratchet straps for the safe securing of bottles
Maximum fork section 150 x 60 at 800mm centres
Zinc-plated heel pins for safe attachment to the truck
Painted bright orange for safety

We hope this article gave you some insight into the best gas cylinder handling tips. If you need an attachment to help facilitate the safe handling of gas bottles, take a look at our options for gas bottle storage and handling.
Back to all blog posts