Introducing – our forklift thorough examination testing service
TAKING THE RISK OUT OF USING YOUR ATTACHMENTS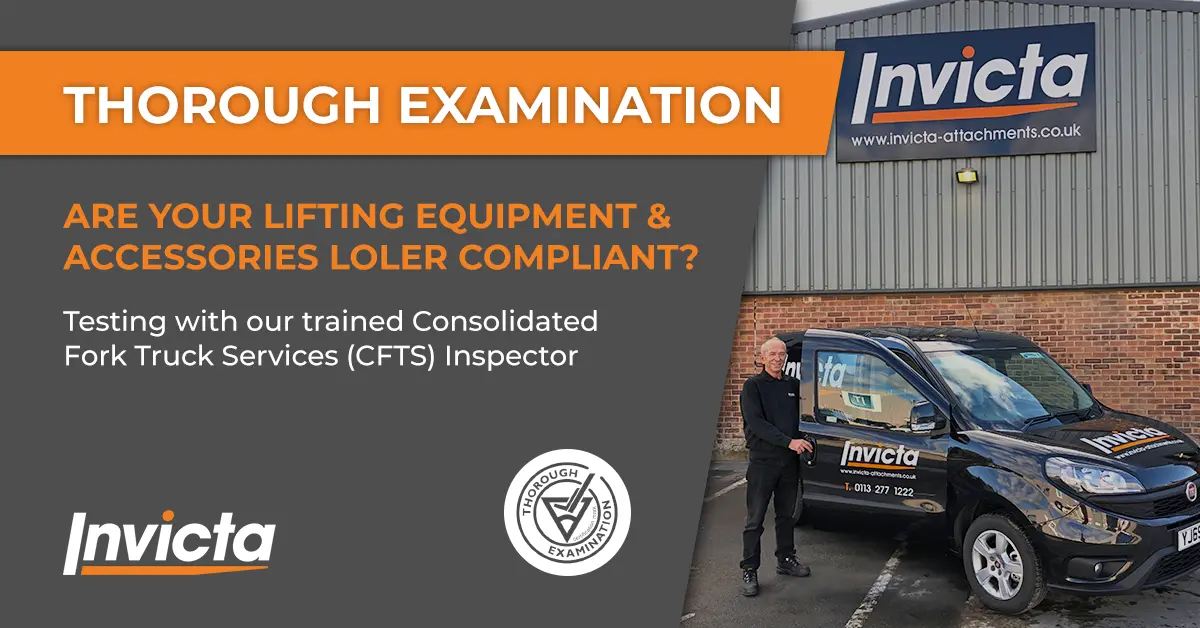 Here at Invicta, we take health and safety extremely seriously and our thorough examination inspection service is helping our homebuilder and construction customers comply with the latest industry lifting guidance.
Under current Lifting Operations and Lifting Equipment Regulations 1998 (LOLER) regulations, operators must:
✔️ Get their lifting equipment thoroughly inspected by a competent person, this includes lifting accessories, such as forklift attachments.
✔️ Make sure the forklift attachments they're using are inspected every six months.
HOW WE CAN HELP
Our thorough examination inspection service enables you to get your attachments (from any manufacturer) repaired and checked by us, using first-hand product knowledge and genuine Invicta parts.
Our service provides you with peace of mind that your attachments meet the latest health and safety compliance
Use our thorough examination inspection service and benefit from:
✔The support and expertise of your forklift attachment manufacturer.
✔ An asset register that records your inspected forklift attachments.
✔ Dedicated account manager support.
✔ Speedy repairs with a stock of spares carried in van.
✔ Repairs on-site for attachments in need of repair (if applicable).
✔ Guidance and support for your materials handling operation.
✔ Specific fork services, including:
On-site fork measuring – if you are unsure of the measurements or cannot take them, we will visit your site and take the measurements for you
Fork inspection – we will make a visual appraisal of your fork(s) and take basic measurements for heel wear, tip alignment, hanger/furniture condition
Fork-fitting – if you've purchased your forks from us, we can fit them to your forklift on your site. (Availability and cost is dependent upon distance).
For more information about our service or to discuss how it can help you ensure LOLER compliance, contact us on 0113 277 1222 or sales@invicta-attachments.co.uk.
Back to all blog posts