Case study: A bespoke waste bin solution for Sunderland City Council
Sunderland City Council reached out to us as they needed a way to unload their domestic waste bins. They already had an Invicta IWBL-stacker, but they needed a new way to unload their three rows/stacks of domestic waste bins.
The original attachment could only offload one row at a time, and they wanted our help to come up with a solution that would allow them to offload more rows of bins in a more efficient and timely manner – speeding up their operations.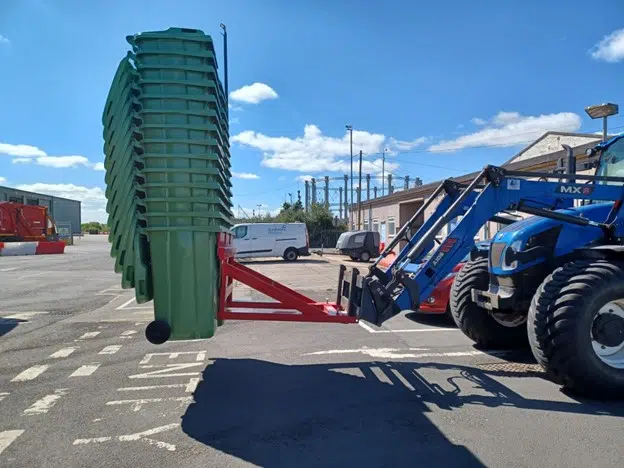 The solution
Sunderland City Council needed a solution that could lift three rows of stacked domestic waste bins, so we created a bespoke fork-mounted, triple-row wheelie bin stacker. We tailor-made the attachment to ensure it could lift the required 3 rows of stacked 240L bins, allowing the council to become more efficient and save time when large orders of bins were sent to their site.
The challenge was ensuring large stacks of bins could be removed from the lorry efficiently. We knew we needed an attachment that was able to reach highly stacked bins to lift them from the lorry to the ground. The Invicta team designed and created a wheelie bin stacker that could successfully handle the height, the width, and the height of the load.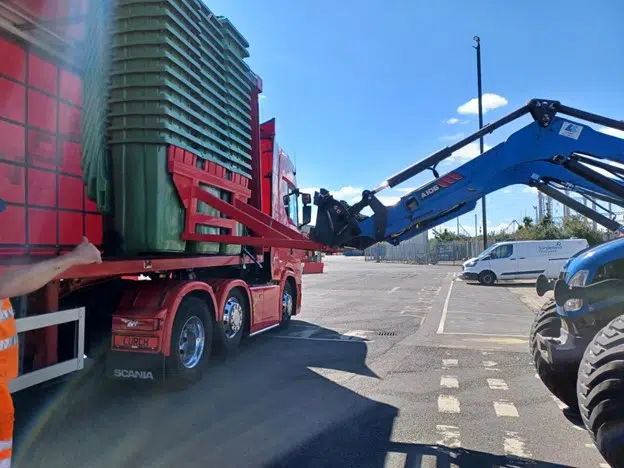 Results
Our bespoke solution ticked all the boxes for Sunderland City Council and means that they can save time and work more efficiently when offloading stacks of bins. We worked well alongside the team at Sunderland City Council who made sure we had more than enough time to complete the project before their next delivery of new bins was received on site.
We would like to thank Sunderland City Council for trusting Invicta Attachments to help with their operation. We very much look forward to working together in the future.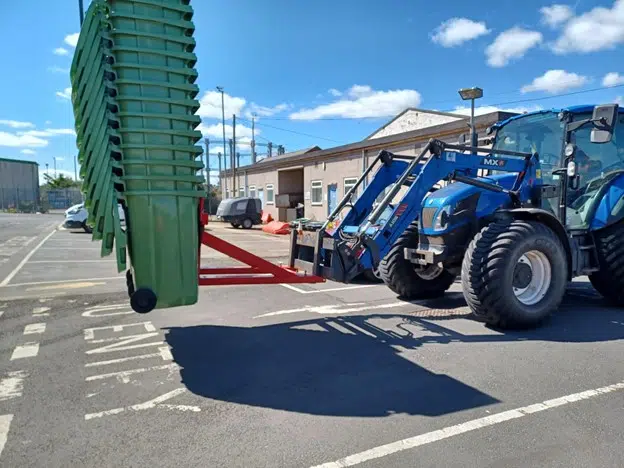 "Invicta were swift in responding to our initial query for a red 3 stack lifter and organised the quotation as soon as possible which enabled us to process the order and commence the manufacturing process. Throughout the process they were approachable and delivery was effortless. The 3 stack lifter has enabled us to have a more efficient offloading process when we receive large orders of domestic waste bins delivered to site. The product is manufactured to a high quality."
Emily Fox, Sunderland City Council
Could we help you improve your operations?
We're pioneers within our field and can manufacture bespoke products that are tailored to your specific requirements. We also provide industry-leading technical support and aftercare.
Talk to us about a bespoke product.
Back to all blog posts