Our latest bespoke project – custom-made forklift skip attachments

These custom-made forklift skip attachments feature a hinged lid and viewing window
Not so long ago, we told you that bespoke is our middle name.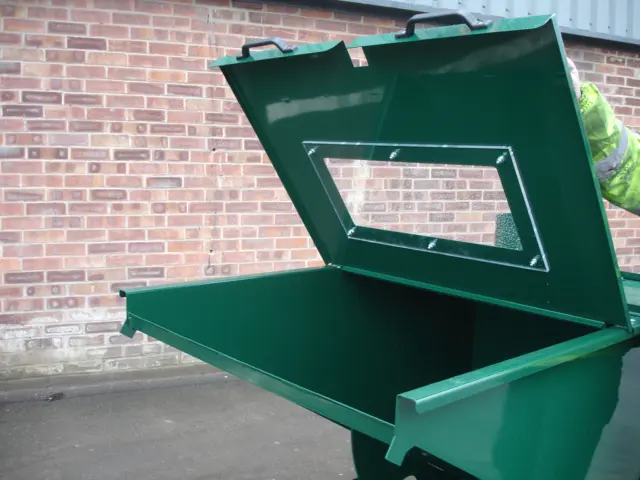 And we have to say, it's still the case. In fact, it will always be the case.
While we're renowned for manufacturing market-leading standard forklift forks and attachments, we excel at creating bespoke solutions in response to our customers' specific operational problems.
But rather than just tell you about our bespoke expertise, we wanted to show you what we're capable of doing by talking you through our latest bespoke project.
What was the brief?
The customer, a manufacturer, needed 13 forklift skip attachments to collect products and bi-products at numerous locations around their production site.
The skips needed to be manufactured in different colours to make it easy to identify what's inside them. They also needed to be designed so that less dust and spillage ends up on the production floor as the products/bi-products are tipped down the chutes and into the skips.
What did we do?
While the basic design of the skip attachment remained unchanged, the lid was 100% bespoke to specifically tackle the issue with dust and spillage.
We designed the lid so that it's hinged and contains a window that provides an at-a-glance glimpse of the level of the skip contents. This feature also means operations can be carried out without having to lift the lid.
At the front, we created a slot for a leveller, which enables the contents to be evened out. This, in turn, helps maximise the overall capacity levels of the skips.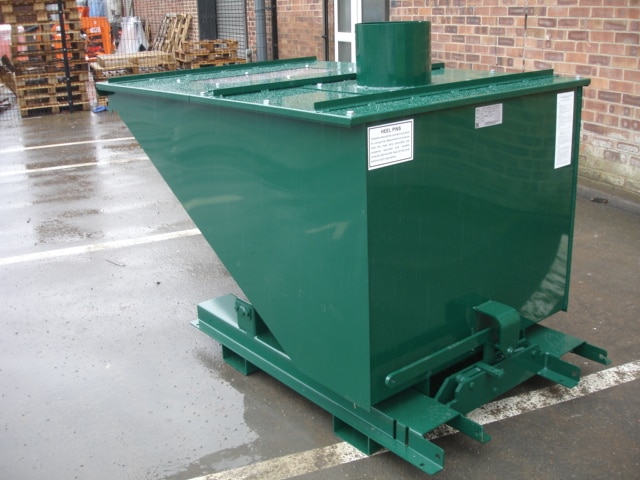 What was the outcome?
We designed and manufactured the 13 skip attachments within three weeks of receiving the customer's approval on the 3D working drawings.
Since they've been on-site, our customer has seen a massive reduction in product overspill, creating a safer environment for their operatives in the process.
They've also found that they've been working far more efficiently too, thanks to the auto tip mechanism, which means the skips can be emptied without the operator having to leave their cab. In the meantime, they can identify what's in each of the skips really quickly and easily.
Do you need our help with overcoming a specific site problem? Large or small, we can help you with our bespoke forklift fork and attachment expertise. Contact us on 0113 277 1222 or sales@invicta-attachments.co.uk.
Back to all blog posts