Forklift attachments for lifting bulk bags – top picks
The best forklift attachments for lifting bulk bags
Moving large quantities of material or waste is laborious, but a part of daily operations. Like most tasks, bulk handling is made fast and straightforward with the right tools for the job.
Here we've picked the top two forklift attachments for lifting bulk bags: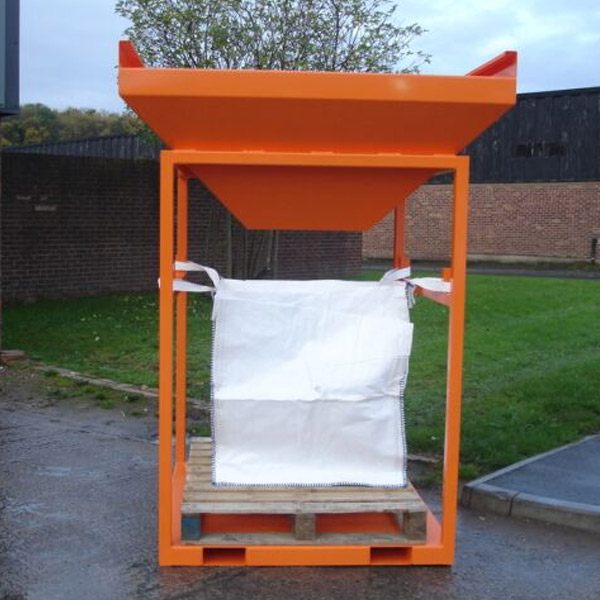 Fill up bulk bags in no time at all
Safely lifting and moving bulk bags of materials starts with them being safely filled. By this we mean filled efficiently, down to the bottom, with no materials overhanging or spilling out the top.
This can be tricky to achieve when the sides of the bulk bag are falling in, especially outdoors. The static bulk bag hopper has been designed to fill bulk bags safely and effectively.
The bags are placed on an empty pallet and suspended on 4 hooks. The hooks pull the sides of the bags away, opening the top for access and enabling them to be filled quickly. The bag is held securely in place during filling and material is funnelled from the top, leaving no debris.
Built-in fork sleeves on the base of the hopper enable easy repositioning around the site. If you're after a forklift attachment for lifting bulk bags, it's the convenient option.
See the full spec for the bulk bag hopper

Transport large sacks of loose material in seconds
Whatever the weight or consistency of loose material, it's a pain to move around. Loose debris causes mess which can be hazardous on site and requires someone's time to clear up.
Having a seamless process for moving loose materials or waste around saves time and effort every day. The crane mounted bulk bag carrier does exactly this. It's been designed for the safe movement of sacks, ballast, or similar items by hooping through all four welded lifting hooks.
To make the attachment suitable for use with an overhead crane, HIAB, or forklift, via a swivel hook, it features a single lifting eye. The mounted bulk bag carrier is compact in design and easily attached, meaning it can be used multiple times a day.
See the full spec for the crane mounted bulk bag carrier
Both these attachments have been designed with ease of use and durability in mind, making them practical picks for all types of businesses.
Got a question about either of our forklift attachments for lifting bulk bags? Contact us on 0113 277 1222 or sales@invicta-attachments.co.uk.
Back to all blog posts