A 4-point checklist for sourcing forklift attachments and maintaining safety
A 4-point checklist for safely sourcing forklift attachments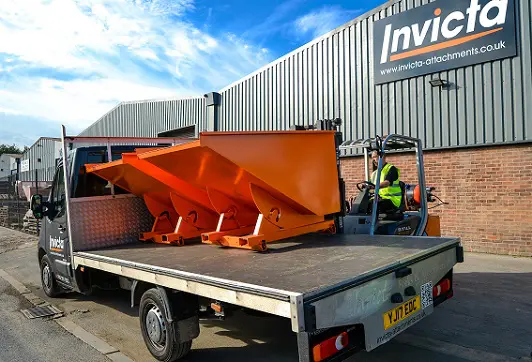 Forklift attachments make hundreds of materials handling tasks faster and more effective. They are completely safe for drivers to operate, as long as the attachments are looked after and used for their designed purposes, following manufacturer's guidelines.
But with so many different attachments to choose from, from scoops and buckets to skips and sweepers and magnets, it's not always easy to know which is the most appropriate attachment for the task at hand. For unique challenges, it could that a bespoke product is the way to go.
Uninformed decisions lead to the wrong attachment, which can compromise safety. It's always advisable to speak with an attachment specialist before purchasing. But, to help you understand more in the meantime, we've put together this handy four-point checklist.
Asking yourself these 4 key questions will help you make the safest decisions:  
1. Is it the right attachment for the job at hand?
We touched on this point at the start of this post, and it's one that should never be overlooked. There's no excuse for complacency when selecting the right forklift attachment because it can put people's lives at risk.
Attachments should also conform with the relevant industry guidance. For instance, PM28 – 4th edition for fork-mounted access platforms and machinery directive 2006/42/EC & ISO 3691-1. (You'll find more on the industry regulations and guidance in our National Forklift Safety Day infographic).
2. Is it working properly?
Under LOLER, lifting equipment and accessories, such as forklift attachments, must be inspected to make sure they're fit for purpose and the operators of such equipment must make sure routine inspections are carried out every six months.
We have a dedicated thorough examination inspection service that's designed to make the process swift and simple while making sure your lifting equipment complies with LOLER. You can read about our forklift examination service here.
 3. Is it the right attachment for your forklift?
When an attachment is fitted to a forklift, it automatically reduces the vehicle's rated capacity. As a result, a new capacity plate that specifically relates to the attachment should be applied to the truck.
If the work you want to carry out falls outside of the truck's revised rated capacity, you should never carry on regardless. In these circumstances, speak to your attachment manufacturer for professional guidance on what to do next.
 4. Is it designed to be safely secured?
It goes without saying, but all forklift attachments should be manufactured with the functionality to be securely fitted to the forklifts they're being used with.
First of all, the attachment should be compatible with the truck (if you're in any doubt about this, do not make any assumptions. Always speak to your forklift attachment manufacturer). Secondly, look out for attachments that have the ability to securely lock into place automatically, e.g. our Auto Lok Tipping Skip. You can see the automatic locking mechanism in action in this video:
Any decisions relating to forklift attachments should always factor in safety. Used properly, they can help improve streamline processes and deliver operational efficiencies.
However, cutting corners and not taking the time to think about key considerations (like those listed above) can result in accidents and injuries, and multiple day-to-day issues that can be time-consuming and costly to put right.
If you would like help with safely sourcing your next forklift attachment, contact us on 0113 277 1222 or sales@invicta-attachments.co.uk.
Back to all blog posts